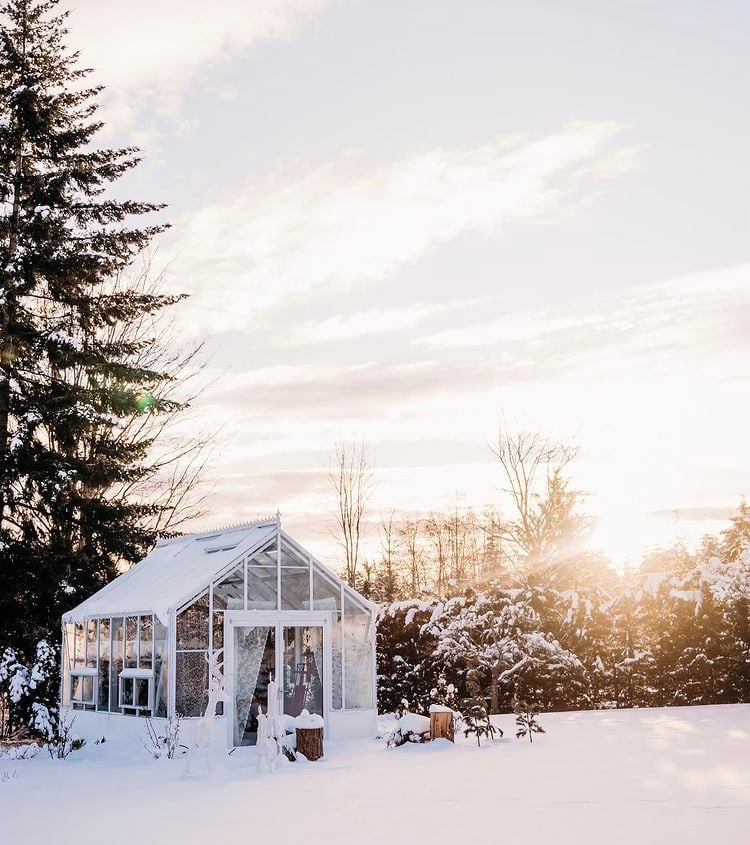 Winter Greenhouses in Snow
One of the strongest greenhouses on the market today that can match your local wind and snow loads.
Our standard level snow load rating is 32 pounds per square foot and we can upgrade much higher.
But how much heavy snow is that?
It depends on the type of snow. There is powder light snow and waterlogged slushy snow. A general guideline is an average 24 inch snowfall that is collected on a roof would be roughly 32 pounds per square foot.
What is the highest snow load of a Cross Country Greenhouse?
We have manufactured greenhouses over 100 pounds per square foot all over North America. That is a quite a bit of snow!
A helpful hint:
If you are expecting a snowstorm, keep a minimal amount of heat in the greenhouse and the snow will not collect on the roof. Alternatively, you can take a broom and brush the snow from the roof if you are concerned with the accumulation.
Additionally, placement of your greenhouse and the greenhouse foundation can help with maintaining heat if it is insulated. Get our Essential Guide to Greenhouse Foundations for more information on that.
Planning a Greenhouse in a High Snow Load Area
One of the reasons customers choose our greenhouses is the strength and ability to meet high wind and snow loads. The first thing to know is we have a standard 32 pounds per square foot for snow and 85 mile per hour wind loads but we can upgrade the loads as needed.
Questions to Think About:
- What are the loads in your area?
- How many seasons do you want to use the greenhouse?
- Do you have an easy pathway to access the greenhouse in winter if needed?
- Are there nearby buildings or trees that might cause high impact snow dropping on the greenhouse?
The Process
If a permit is required, we partner with our engineering firm who supplies sealed drawings within the acceptable guidelines. In many cases, the loads can be increased with some extra supports if a permit is not required. We increase the strength of the greenhouse by adding bracing, purlin supports, trusses or upgrading the frame to a tubular option. Connect with our team at hello@bcgreenhouses.com for more information.
More Greenhouse Tips from BC Greenhouse Builders: